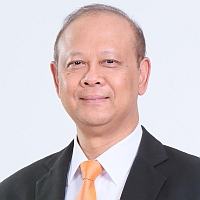 Sudharma YOONAIDHARMA
---
Commissioner, Energy Regulatory Commission (ERC), Thailand
Assoc. Prof. Sudharma Yoonaidharma earned his Master of Laws (LL.M.) from Harvard Law School and Post-LL.M. in International Economic Laws from New York University. He taught business and economic law at the Faculty of Law, Chulalongkorn University, where he held senior posts, among others, Vice Dean for Academic Affairs, Director General of the Chulalongkorn University Intellectual Property Institute and Director General of the Center for Scientific, Technological and Energy Law. In 2012 he was Dean of the School of Law, University of the Thai Chamber of Commerce.
In the 1990s, he was appointed Legal Advisor to the Ministers under several government administrations, and Executive Board Member or Member of a number of public organizations, committees and sub-committees, such as PTT Exploration & Production; Sub-committee on Border Trade Problem under the Committee on Economics and Finance; Sub-committee on Telecommunication Consumer Protection; Committee on Drafting Privatization Bill under the Ministry of Finance, to name a few. Prof. Yoonaidharma was appointed World Bank expert on Transport & Communications to advise and help drafting new telecommunications, aviation, rail and energy bills, some of which became laws in force until now. Through the years, Prof. Yoonaidharma's activities included, among others, the drafting of e‐commerce laws, digital economy and society law, personal data protection and cyber security as well as research and proposals on corporatization and privatization of state‐owned enterprises.
From 2004 to 2010, he was a Commissioner of the National Telecommunication Commission (NTC) – a predecessor of the current National Broadcasting and Telecommunications Commission (NBTC). He was the lead telecommunication negotiation delegate for the Japan‐Thailand Economic Partnership Agreement, Thailand‐India Economic Cooperation Agreement, ASEAN‐China Closer Economic Cooperation Agreement and Thailand‐Australia Free Trade Agreement. He was nominated Chairman of the ASEAN Telecommunication Regulators' Council (ATRC) in 2009.
Prof. Yoonaidharma has considerable expertise in economic law and international economic law, competition law, international trade law, and the law on transportation, communication, telecommunication, digital economy and energy.
Since 14 September 2018, he has been appointed Commissioner of Thailand's Energy Regulatory Commission (ERC), an independent regulatory agency responsible for the regulation of electricity and natural gas industry in Thailand.