Interview with the new ERRA Chair – Commissioner Maia Melikidze
28/09/2020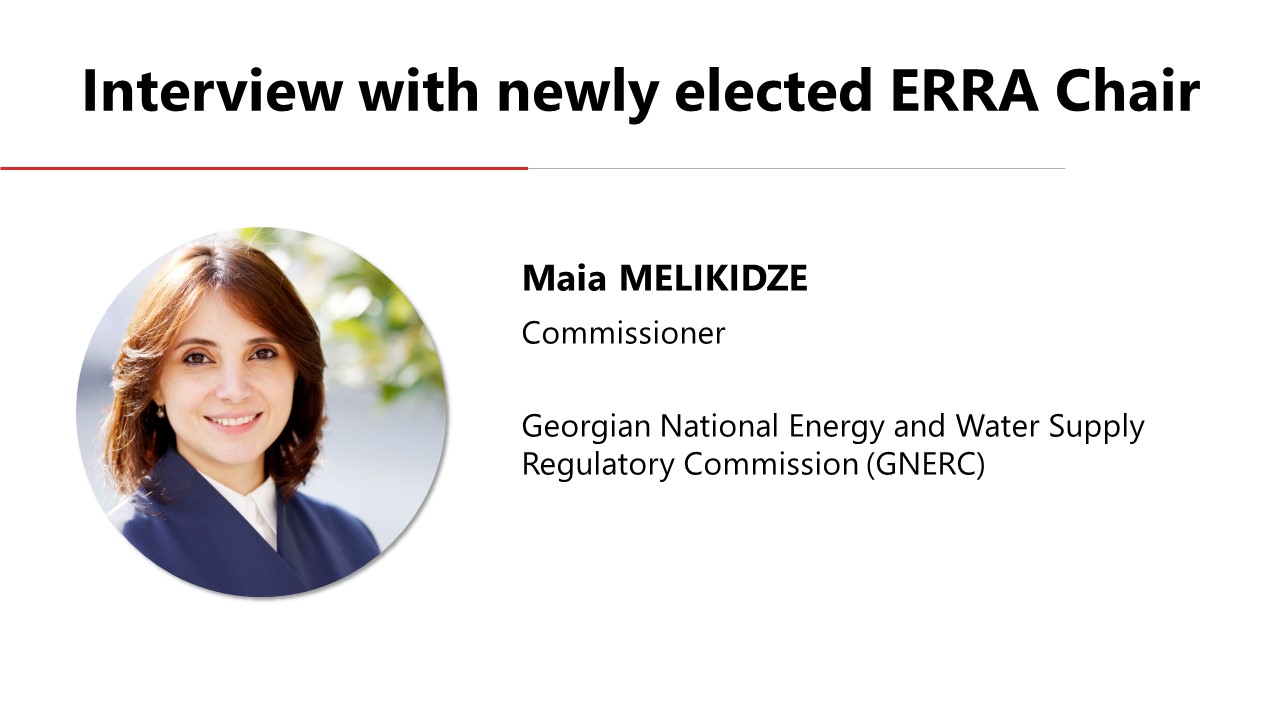 ERRA Secretariat: Dear Ms. Melikidze, first of all congratulations on your election and appointment! It is a pleasure to have you with us. The first question that we would like to ask today concerns new ERRA Members. The recent General Assembly showed that ERRA is growing at an impressive pace, with 5 new members now approved. What should be the direction of the Association's development in the light of expanding membership and a very diverse geographic coverage?
Maia Melikidze: Thank you very much. Yes, it is very obvious that ERRA went far beyond the term 'regional' and it already comprises regulators from all over the world. We, the Presidium members and the Secretariat already have enough capacity to participate on various international platforms dealing with energy issues. Therefore, we should try and promote ERRA through such instruments. Moreover, we should also think about increasing our focus on water sector regulation. ERRA deals with water regulation issues as well, however it is more concentrated on electricity and natural gas these days.
ES: How do you think ERRA can better bridge the members that are still pending energy system reforms' implementation with those who already represent liberalized energy markets?
MM: The new Committees/Working Group are an efficient tool to bridge members with different stage of development. The COMs/WG members can easily communicate and exchange their information on certain experiences. We could also consider promoting and putting more emphasis on activities such as member-to-member projects, which would mean sharing of advanced knowledge and experience with members having less expertise or who are on very initial stage of regulation development.
ES: Over the recent months ERRA Secretariat had to withdraw its practice of regular, physical events. How should ERRA function and provide for its members in pandemic reality? Do you think the workplan adopted by members last week addresses this issue effectively?
MM: I have to admit that ERRA has been quite prompt in addressing measures triggered by the pandemic. The Secretariat almost immediately ensured an efficient online working mode. For the time being we should learn living with COVID-19 together.
Online work-plan of ERRA reflects the situation quite well. Even though the situation is rather grim worldwide, there are some positive aspects – for instance, virtual meetings are a good chance to participate in ERRA-led cooperation for those who are usually not able to attend meetings physically due to e.g. budgetary constraints.
ES: ERRA's vision states that the Association should be a "reference point for practice and knowledge in the constantly evolving regulatory environment". How will this vision be implemented under your chairmanship?
MM: Taking into consideration the unusual international situation, one of the main goals under my chairmanship in ERRA is building the bridges between regulators. In order to help companies overcome ongoing challenges such as financial complications caused by the pandemic, formation of supportive regulations is essential.
In the near future, ERRA will become an even more global organization and we expect not only an increasing number of members, but also a more intense involvement from their side. We should increase the information flow – from this place I would like to encourage cross-checking of each member regulator's activities and workplans, that aim at solving the difficulties that particular energy systems are facing.
Moreover, I am in favor of more connections and cooperation between the 'West' and the 'East', meaning developed and developing markets – for the purpose of sharing experience, expertise and exporting their knowledge to neighboring countries. Everything that is mentioned will encourage improvement of economic, and in particular, tariff policies, promotion of renewable energy sources, renewable generation and utilization etc., which would translate into an overall, indirect development of regional energy markets thanks to ERRA initiatives. Furthermore, promotion of the role of women in the energy sector on decision-making level is relatively important.
Energy markets' condition is one of the key factors that define the well-being of our economies. Effective supply of the vital energy for households; micro, small and medium enterprises, large industrial plants and other undertakings provides certainty and cost-minimization. This is important especially in current, challenging times when taking even short-term decisions proves difficult. Regulating this sector is a great responsibility and I strongly believe that the role of ERRA in facilitating effective energy regulation can be decisive.
ES: Thank you very much for your answers and welcome!