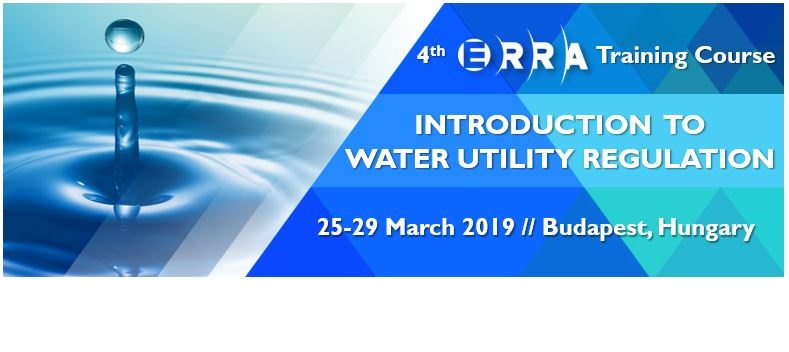 Course description
Student testimonial from previous training:
by Dragana Bjelobrkovic Vukcevic, Montenegro Energy Regulatory Agency
---
Course Objective:
The course features 5 days dedicated to the core responsibilities and activities of water utility regulatory authorities with regard to the oversight of the regulated utilities, principles and practices of tariff setting, performance benchmarking, and new developments in the regulation of the sector.
Participants will gain knowledge on key economic concepts guiding the operation of the sector, the challenges faced by sector participants including the wider problems of water management, and the role of the regulator and regulatory models including best practices. A core theme of the course is tariff setting and approval by the regulator: theoretical lessons will be supplemented by case study examples and a tariff setting exercise. Sufficient time will also be dedicated to the role of performance benchmarking in regulation.
Design of the Course:
Instructors of the course are a mix of utility regulators and researchers. The course is designed to assure the utmost transfer of practices and information from experienced regulators to course participants. This characteristic allows ERRA to design training courses that focus equally on practical application and theoretical methodology and include the transfer of relevant direct experience. In addition to the formal classes presented by the instructors, the course will feature preparatory homeworks, practical exercises, simulations, participant case studies and a final test.
Target Audience:
The course is available to practising water utility regulators and to non-regulators such as ministry and local government representatives, banking institutions, law and investment firms, consulting companies and regulated utility companies.
---
---
Course registration
| | |
| --- | --- |
| ERRA Full Members | EUR 1 075 + 27% VAT |
| ERRA Associate Members | EUR 1 275 + 27% VAT |
| Non-Member Regulators | EUR 1 475 + 27% VAT |
| Non-regulators | EUR 1 975 + 27% VAT |
---
Tuition fee includes: training materials, lunches, coffee breaks during the training course and a social programme.
Accommodation cost for 5 nights will be added to the tuition fee in the amount of 330 EUR if you chose to stay at the training venue (European Youth Centre Budapest (EYCB); http://www.eycb.coe.int). (In case participants wish to stay at a different location, please note that they will need to do their own hotel arrangements.)
Gallery
no images were found
Water Training 2019
Please note that ERRA is not in the position to provide participants with funds or assistance in finding the necessary funds regarding their participation fees and does not have sponsored places for the training. Thus, we kindly ask you to submit your registration only in case the funds to cover your participation, including tuition fee, travel, etc. are available for you and your participation is already approved by your delegating company.

Topics:
Water Utility Economics
Principles and Institutions of Water Utility Regulation
Tariff Setting
Performance Benchmarking
New Developments and Emerging Issues in Water Utility Regulation
The detailed Agenda will be available at a later stage.
For reference purposes please visit the website of the previous similar activity:
https://erranet.org/training/3rd-training-on-water-regulation/
Please note that Training Materials are available only for registered participants and ERRA Members. Please LOGIN with your username and password.
Venue/ Accommodation
European Youth Centre Budapest (EYCB)
Address: Zivatar u. 1-3., H-1024 Budapest
Tel.: +36 1 438 1030 ǀ Fax: +36 1 212 4076
E-mail: tni.e1542044310oc@ta1542044310irate1542044310rcesb1542044310cye1542044310
Web: www.eycb.coe.int
Tuition fee includes: training materials, lunches, coffee breaks during the training course and a social programme.
Please be informed that 5 nights of accommodation at the course venue – European Youth Center (EYCB) can be added (check in on 24 March, check out on 29 March). Please note that EYCB has a dormitory type of accommodation, which means that there are no television and air conditioner in the rooms. Participants are accommodated in private rooms with private bathroom included. For more information please visit: http://www.coe.int/t/dg4/eycb/Conf_facil/photos_en.asp. In case you need extra nights for your stay, a separate form will be sent to you with the confirmation letter. Single room rate is € 66/night+VAT (including breakfast).

---
Visa
Please verify the visa requirements of Hungary by contacting the Hungarian Embassy in your country. The list of diplomatic missions is available here: http://www.kormany.hu/en/ministry-of-foreign-affairs-and-trade/missions. The list of countries whose citizens do not require visas to enter Hungary can be found at http://konzuliszolgalat.kormany.hu/visa-waiver-agreements.
List of third countries, where a Schengen state issues visas on behalf of Hungary is available on this page: http://konzuliszolgalat.kormany.hu/visa-issuance-on-behalf-of-hungary.
In case you need an entry visa, please immediately contact the ERRA Secretariat! To prepare a visa invitation letter for you, please send us your passport copy.
---
Airport Transfers/ Travel Information
Budapest Ferenc Liszt International Airport (formerly Ferihegy):
Located 16 kilometres (9,9 mi) east-southeast of the centre of Budapest
Central telephone number for information: +36 1 296 7000
The transfer time to/from the airport to the downtown is approximately 45-60 minutes (subject to traffic)
Shuttle bus
miniBUD (http://www.minibud.hu/) is the official airport shuttle service company providing fixed-priced transfer service between Budapest Airport – Budapest city center – Budapest Airport. The miniBUD airport shuttle service counters located on the arrivals level of Budapest Airport.
Rate to the EYCB:
one-way: HUF 3900 (approx. 12,5 EUR)
round trip: HUF 6900 (approx. 22 EUR)
Taxi from the Airport
There is an official airport taxi company (Főtaxi) available at the Arrival Hall of the Terminals. All Főtaxi cars are equipped with POS terminal, therefore passengers can pay with credit card as well. Reservations can be made in person at Főtaxi booths located at the exit at Terminal 2A and 2B. At the taxi rank in front of the stands taxis are parking continuously waiting for passengers.
Rates (for reference purposes only): around HUF 8500 (27 EUR) for one way.
Calling a Taxi in Budapest
Please find below the list of larger taxi companies in Budapest:
Taxi 2000: +36 1 200 0000
Citytaxi: +36 1 211 1111
Főtaxi: +36 1 222 2222
6×6 Taxi: +36 1 666 6666
Public Transport
Budapest's network of public transport services (BKK) includes buses, trolleybuses, trams, subway (Metró) and over ground suburban trains (HÉV).
For ticket prices and more information please visit the official website of BKK: http://www.bkk.hu/en/tickets-and-passes/prices/
Booklet in PDF with useful information is available here >>
Railway Stations
International trains operate from the three largest stations:
Keleti pályaudvar: VIII., Baross tér. Tel: (+36-1) 413 – 4610.
Nyugati pályaudvar: VI., Nyugati tér Tel: (+36-1) 349-8503
Déli pályaudvar I. Krisztina krt. 37. Tel: (+36-1) 375-6593
All three international railway stations are part of the Budapest Underground system, the Metró. The Déli is on the Red (Number 2) line, Keleti is on the Red (Number 2) and Green (Number 4) lines and the Nyugati is on the Blue (Number 3) line.
Official website of the Hungarian State Railways: https://www.mavcsoport.hu/en
---
General Information