General Information
Background
Professional development in energy regulation requires a working knowledge of regulatory economics, good understanding of policy impacts and the ability to navigate national policy processes. Among others, it also requires an effective regulatory agency in place that can manage legal and organizational processes that are unavoidable when oversighting regulated market activity.
As our association evolved and members faced staffing issues (recruitment of qualified staff, staff changes etc.) it became clear to us that there is a strong need for structured training programs that would augment best practices' transfer exercised in ERRA meetings and other activities of the association. Another important driver for a capacity building practice establishment was that most of ERRA countries do not have an opportunity to attend university-based regulatory training. Energy regulation, being an inter-disciplinary field, needed therefore a direct engagement from ERRA. The diversity of students attending our courses is a reflection of the high demand for that relevant education.
The default location for our trainings has always been Budapest, but in the recent years ERRA has provided more and more courses at its Members' premises in order to be more open and accessible (more details in the table below). Nowadays however, ERRA offers both regular, in-house/on-site trainings as well as online courses. The latter were reintroduced to the capacity building agenda in order to meet current regulators' needs of accessibility without travel and increased relevance. Our virtual courses cover the most urgent and practical topics such as tariffs' design and calculations and come either in a short (webinars) or long formats (multi-week e-learning).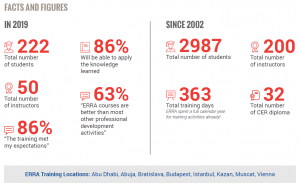 ---
Structure of ERRA Training Activities
Present offer:
(includes activities organized since February 2020 onwards)
Online (e-learning) courses:
Dedicated ERRA webinars on the most up-to-date topics:
Standard offer:
(please note that the standard list of ERRA training activities is now unavailable due to the travel restrictions stemming from the COVID19 pandemic)
Training programs:
Introductory Level
Intermediate/Advanced Level
Educational Workshops:
---
ERRA Training Program methodology
The majority of ERRA's course instructors are current or former regulators, creating a strong link between applied knowledge and the theoretical concepts that guide regulation. These characteristics allow ERRA to design training courses that focus equally on practical applications and theoretical methodology, and include the transfer of relevant and direct experience. This is a distinct comparative advantage in a market that is populated by other training centers that often focus on theoretical background and less on the day-to-day reality of challenges faced by regulators.
ERRA educates participants through a variety of methods, including:
group exercises,
mock simulations,
participant case studies,
on-site visits,
spreadsheet exercises and modelling,
self-testing,
thus providing them with a foundation to adapt regulatory procedures to their own domestic legal and regulatory frameworks.
Participants receive a vast array of documentation to support the different themes and modules. These materials include PowerPoint presentations of all course instructors, list of suggested readings and reference materials. Personalized certificates are awarded to participants who successfully complete the programs.
ERRA also developed the Certified Energy Regulator training certificate to indicate that participants in ERRA courses have achieved a set level of fluency in the regulatory field. For more information please visit >>
---
ERRA On-Site Custom Trainings

(please note that ERRA On-Site Custom Trainings are included in the standard list of ERRA training activities which is now unavailable due to the travel restrictions stemming from the COVID19 pandemic, however we welcome interested entities to contact us regarding organization of online tailor-made capacity building programs)

ERRA has provided on-site custom trainings in the past to educate regulatory and market operator's staff members in the many aspects of utility regulation. Our tailor-made trainings have enjoyed growing interest thanks to our dedication towards meticulous adaptation of curricula for a specific geographical, economic, legal and financial contexts:
Tailor-made workshop for the Authority for Electricity Regulation (AER), Oman on Power System Basics for Non-Engineers, January 26-28, 2020 // Muscat, Oman
Tailor-made training support to the Oman Electricity Transmisison Company on Tariff Regulation and Electricity Markets, September 1-3, 2019 //Muscat, Oman
Tailor-made training for the Electricity and Co-generation Regulatory Authority (ECRA) of Saudi Arabia on Water Utility Regulation, April 28 – May 2, 2019 // Riyadh, Saudi Arabia
Tailor-made training support to the Oman Power and Water Procurement Company on Principles of Tariff Regulation, December 2-4, 2018 // Muscat, Oman
Training for Cyprus Energy Regulatory Authority (CERA), May 2 – June 21, 2018 // Nicosia, Cyprus
ERRA Training Course: Introduction to Energy Regulation designed for the Nigerian Electricity Regulatory Commission (NERC), November 20-24, 2017// Budapest, Hungary
ERRA Workshop for Staff Members of British Embassies, December 8-9, 2015 // Budapest, Hungary
1st Africa Renewable Energy Training Week, October 12-16, 2015 // Arusha, Tanzania
ERRA-IRENA Renewable Energy Week, January 25-29, 2015 // Abu Dhabi, UAE
ERRA-MEDREG Joint Training Course: Economic and Technical Aspects of the Deployment of Renewable Energy Sources (RES), March 3-5, 2014 // Budapest, Hungary
ERRA-NERC Training Course: Introduction to Energy Regulation, February 8-12, 2010 // Abuja, Nigeria